About the Putnam Humane Society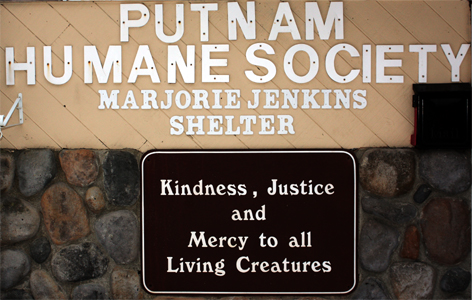 The Putnam Humane Society is a not for profit animal shelter located in Putnam County New York. We were founded in 1957 by Marjorie Jenkins who started the society in a small barn on Nichols Street. We moved to our current location on Old Route 6 behind Putnam Plaza in the mid seventies. We've expanded and improved throughout the years, and continue to grow to meet the needs of our community and pet population as funds permit.
We are contracted by Carmel, Patterson (secondary) , Philipstown and Southeast to provide shelter services for lost and stray dogs that are brought to us by the dog control officers and the public from these towns under New York State Agriculture & Markets law.
We are funded by the above contracts, Putnam County, membership dues and the donations and goodwill of the public at large. We do not receive any funding from the ASPCA or any national Humane Societies. All donations are 100% tax deductible.

Putnam Humane Society's Mission Statement
We are here for the animals…

To be the voice for the animals who cannot speak for themselves.

To provide protection, a safe haven and compassion through leadership for the homeless, abused, and neglected animals of our community.

To be the advocates for our unwanted/abandoned pets and promote humane awareness for all animals.

PHS is dedicated to nurturing and protecting the animals in our care while they await adoption. We are committed to providing these animals with the patience, confidence, discipline, nutrition, medical treatment, and socialization they may require until they can be adopted into responsible homes.

PHS is a NO KILL SHELTER – meaning, we do not euthanize for space limitations. We provide euthanasia for terminally ill and seriously injured animals to end their suffering when reasonable courses of treatment have been exhausted. We consider humane euthanasia in the animal's best interest – if an animal is behaviorally or mentally tormented to the degree that they will not allow any human contact or interaction and only after every effort has been exhausted to modify the behavior issues of the animal.
The shelter is governed by a volunteer Board of Directors that is elected by the membership. The current board members (as of June 28, 2015) are:
Michele Dugan, President
Vicki DiCairano, Vice President
Tracy MacKenzie, Secretary
Lisa Capizzi, Treasurer
Patricia Maurer, Director
Courtney Aponte, Director
You can email the board here.
The board meets every 6th Thursday at PHS at 7:30 PM.  If you would like to be placed on the agenda, please email us your request.
Elections are held annually, with a minimum of 3 seats up for election each year.
We have approximately 12 paid employees and a small army of volunteers who care for an average of 100 dogs and cats per day.