Success Stories
We've been so fortunate to have PHS Success Stories sent to us from happy adopters. Look below for beautiful tales that are sure to warm your heart!.
Do you have a PHS Adoption Success Story? Share it with us by

Clicking Here

!
---
---
---
Violet (formerly Hilda), Ben and Archie (formerly Donavan)

Back about 7 1/2 years ago my parents adopted a dog named Ben from the Putnam Humane Society. He was a Shoe chewer for a while and gave us a run for our money in his puppy and teenage years.   He was always a very sweet dog and still is and stands guard over our family and over my two little nieces.  We call him Gentle Ben. He is the sweetest dog we've ever come across, but also one of the biggest!  He is a special guy and he gets more and more lovable by the day.  My parents also adopted a cat that they named Buddie (myrtle),  about three years ago. But he absolutely loves Ben and is a very independent cat but a very affectionate one.
My husband and I currently have three beautiful and healthy cats two, of which are from the Putnam Humane Society. Archie (Donavan), was adopted in 2012 and got along right away with his brother McGee.  He was a kitten when we got him and our other cat was relatively young so they took to each other very quickly and have been best buds ever since. This past fall I walked back into the Putnam Humane Society and I asked for one of the most deserving cats that they had for adoption. Without hesitation they all said "Hilda". We later named her Violet.  She is gentle and beautiful and I believe that our home might be the first home that she's ever lived in.  She had been found and was nursing not only her own kittens but had adopted a second set of kittens to care for.   Needless to say when I brought her home she was very skittish and very skinny.  She hid for almost 3 weeks under a bed and we barely saw her.  She was absolutely terrified of her other two cats. Now there isn't a time I see her when she isn't nuzzled up against one of the other two boys that we have. She is also way fuller than we thought she would ever be considering she was so tiny when we got her.  She is happy and healthy and loves her brothers.
---
Mori

We adopted Mori in early June of this year but it feels like he's always been a part of our home. He has been such a welcome addition with his love of attention and big heart. Every single day we are thankful and happy we have gotten to watch his personality evolve from the scared, constantly-hiding kitty to the loving, confident, mischievous hunter. In short, we are obsessed with our silly, noisy, quirky little man and are grateful to you, the Putnam Humane Society, for granting us the adoption ❤?
-Melissa and Marcus
Jax (formerly Cramden)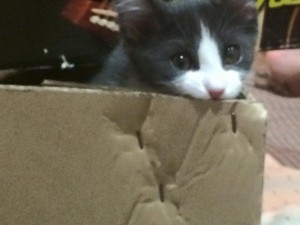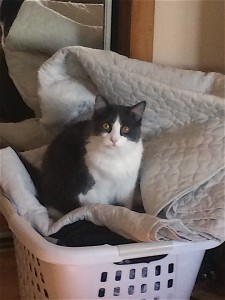 We adopted Jax (formerly Cramden) on 7/25/15.
He has brought so much happiness to our home since his arrival. He is so playful and sweet. He loves to cuddle and gives lots of kisses. Jax gets along very well with our other kitty Abby and our Collie Thumper. 
We celebrated his 1st birthday yesterday!! Thank you Putnam Humane Society!!
Anne, Ken and Kelli Murphy
Willie

After almost four years as a volunteer at PHS, I've walked and loved many a dog; and even brought home a couple of them on weekends to help socialize them to home surroundings. In the fall of 2014, a little terrier dog named Willie was having a hard time finding a home. He came into the shelter at approximately 8 years old from uncertain circumstances and had a lot of fear aggression and dominant dog issues. He was a real brat and needed a lot of retraining. Willie had been adopted out twice and returned because he kept biting his adopters. We aren't talking about little snaps here, he was pretty fierce for a little guy. Even though folks said I was crazy to take on such a tough case, I wanted to try. Willie deserved a chance at becoming a "real" dog. Most dogs with issues like his don't get this chance.
For the first few months, Willie tried to bite me pretty much every day. It was mostly when I tried to leash him up to go for a walk; but that wasn't the only time. He would also bite if someone tried to get him out of the car after going somewhere. I have to admit, he looked pretty scary when he bared his teeth and launched himself at me. But I also had to chuckle at him; because he is only 10 pounds. I used to put on my winter boots when I had to go get him because his little teeth couldn't penetrate. I would hang his leash out the window so I could grab the end before I had to get him. He would hide in his crate, (he felt safe there – good and bad points to this; because he also protected this space) so I would have to tilt it over to dump him out. He would try to bite every time I leashed him so in the beginning I had to lasso him to get his leash on while he cowered in his bed so we could go for a walk.
I followed the PHS trainers' advice: structure, consistency, discipline, and of course, he got love. But mostly he felt secure in his new home. I asked the PHS trainers a lot of questions and followed their advice to the best of my ability. I was vigilant in the beginning because if I gave him an inch he would go back to bad behavior. It was really hard to be vigilant when I looked at that cute face –  I kept reminding myself of that snarling snapping little brat I brought home and knew it would pay off down the road.
Ten months later Willie is truly a different dog – he's a "real" dog now. He looks to me as his pack leader. He is a funny, sweet, happy little guy. If he gets off course, we back up. It happens periodically, but not often and there is usually a trigger: a person, a noise, etc. He has earned expanded freedom to walk around my condo without the leash in all areas except the bedroom.(because he will still scramble under the bed and not come out). He is the darling of my condo neighborhood, runs up to all his people friends wiggling his little sausage tail to be petted. His best neighbor friend is an 8 year girl who comes to visit him, walk him and gives him snausages. He even is now able to be around other dogs without barking. He hops willingly into his crate for bed at night and waits to come out in the morning. He loves going for rides in the car and hops into my lap or waits by the passenger door when it's time to get out. He loves his cat sister, Cleo. They snuggle side by side on the couch at night. It's hard to believe he is the same dog I brought home.  So many dogs are overlooked in shelters because they have issues. Willie is proof that with patience, time and training, even an 8 year old dog with serious behavioral problems can be rehabilitated into a loving family member.
Midnite (formerly Urbano) & Star (formerly Kale)

Amour, Jess and everyone at PHS,
My guys Midnite & Star are my biggest joy!!
Thanks to all,
Jack
---
Molly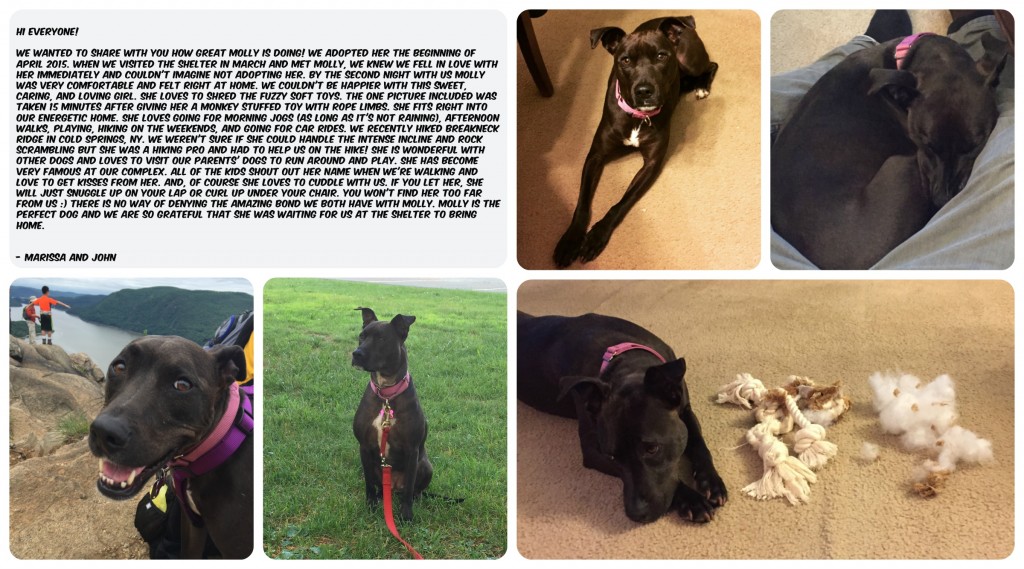 ---
Mittens

---
Angel (Formerly Aldo)
Angel is the    old Aldo and he already owns the place! He's very very happy and sweet.  Thank you so much.
Sarah
---
Rocky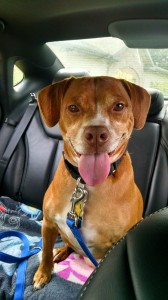 Hi Putnam Humane,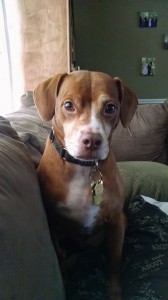 As we have mentioned each time we come to donate, we are so thankful for you guys saving all these cats and dogs.
We rescued Rocky back in August 2013 and have been in love ever since.
Rocky is the king of the castle and we spoil him beyond belief,  but he is so deserving of it,  with the history he's been through.
We have attached a few pictures of him to show you guys how he is doing these days. He loves to cuddle with us and our son when he sleeps,  and really loves to go pickup our son from school. All the kids love him. When he is awake he lays on the couch with us and watches TV.
The Hoffman's
Corky & Courtney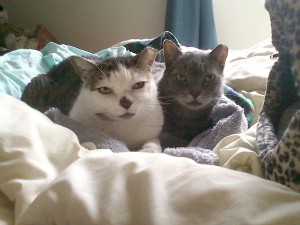 Corky & Courtney were both rescued from a terrible local hoarding situation.  They were adopted together!  Here they are in their loving home.  They are both thriving and bring so much joy to their family!
Endo (Formerly Atlas)
We adopted Endo, formerly known as "Atlas", when my boyfriend and I stopped by at your shelter three or four years ago this spring (wow has time passed, it feels like yesterday!). We saw Endo, just three months old, looking cute as ever laying in his cage under a raised dog bed (which, even to this day Endo loves laying under tables and chairs). He had two other cage mates that looked to be a few months older then him but he didn't seem to mind them one bit. As soon as we bent down to greet him he came right up to us with his adorable puppy face, it just melted our hearts. We knew that he was supposed to be part of our family.

Since adopting Endo he has traveled to many places here on the east coast. He especially loves swimming in lakes and in the ocean! He loves all animals and loves to go on his weekly hikes. Endo has turned out to be an amazing dog and has exceeded all of our expectations. He loves to play and run around but he loves to cuddle and snuggle just as much. Endo fits in with us and our lifestyle perfectly. Every summer Endo goes camping and loves to sit around the campfire and/or get down and dirty in the dirt! We couldn't have asked for a better, well-behaved dog! We hope in a few years to be able to provide another dog with a loving home as we have given Endo.

Thank you PHS for saving Endo's life from the high kill shelter in Georgia! We can't thank you enough and please know that Endo is living a wonderful life with us and is very happy! He has brought so much love to our home!

Thank you again,

Kristine Kellas, Wayne Fletcher & Endo
---
Sparky (Formerly Sparkles)

We wanted to send some pictures over of our adopted kitten Sparky (formerly Sparkles). We adopted him on 3/13/14. He is loved by all of us & his adoptive older cat brother, Maxwell. Sparky fits right in with Maxwell & is a great addition to our family. We are now officially a black kitty establishment.
Riot (Formerly Jenny)

Can't tell you how much we love our "tuxedo" kitty "Riot" who we adopted from Putnam Humane in February!!!
J. Walter
---
Bee Gee

Misty
Fiona (Formerly Fancy)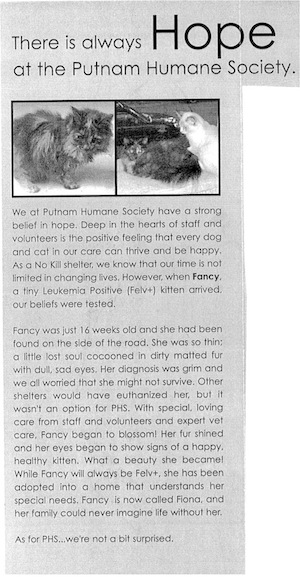 My husband and I already had a FeLv+ kitty named Roxy and we thought she would enjoy a friend.  We went to the PHS shelter to see if there were any FeLv+ kitties & there were two.  One look at Fancy & she started purring  and spinning in circles!!  We opened her cage to pet her and she practically jumped into my arms and purred.  There was no doubt she picked us to be her family.  
3 years ago today, my husband and I adopted Fancy (now Fiona)!  She still purrs & spins in circles the moment either one of us walks in the door.  She is the sweetest little kitty who loves to play & get belly rubs & we couldn't imagine life without her!  
Thank you for not giving up on her!
Christine & Michael H. 
Oreo (Formerly Robinson)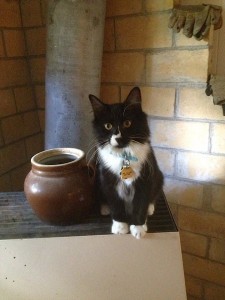 Robinson aka as Oreo turned 1 on March 12th, 2014.
He's a wonderful loving cat!! We all love him so much!!!
Luna (Formerly Dora)
 
My Family and I adopted Luna or Dora as she was called at the Humane Society, about 2 years ago. When we first brought her home she was very quiet, timid, and didn't do a lot of exploring. Her background story was quite sad, it was obvious she had been used for breeding which made her terrified of other dogs and she clearly did not have much experience inside of a home. But over the past 2 years Luna has blossomed into a sweet, loving, and excited 8 year old doberman pincher. She enjoys laying on the couch and snuggling next to people. We are so happy we adopted Luna, we can certainly tell all of our lives are better because of it. 

Coby (Formerly Crosby)
This is Coby, formally known as Crosby. I adopted him in 2008, and it's one of the best things I've ever done!
He is my big lovable couch potato. Couldn't ask for a better dog!
Thank you!
Lisa M
Mac
Here is a video clip of our dog Mac that we adopted 2 years ago. As you can see, he has settled in beautifully and is truly a part of our family in every way. Not sure what his past was. but I have never seen such a gentle soul in a dog. He is very loved by all of us and everyone he meets .
Thank you for giving him what he needed so we could have such a great dog
– The Summa Family
Eddie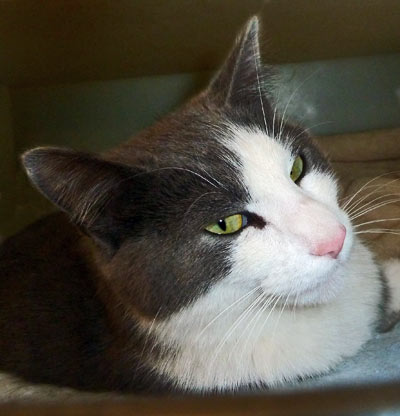 My name is Eddie.  I am a cat..
I was previously in residence at an animal "shelter". It was actually just a small cage, with lots of other cats in more cages all around me.
Sometimes our caretakers would let me out to play around the two small rooms that held our cages, but that was it.  Nothing more for me to do except for one very important thing.  Whenever some people would come to the shelter, looking to pick out a cat to take home with them, I worked out a very clever shtick — if I say so myself.
I figured out that I would have to do something that would make me look more appealing than the other cats. So whenever people walked by my cage I would flop on my side, stick a paw through the bars as if I was asking for help, and look up very yearningly  with my gorgeous yellow eyes.  If I could have rolled my eyes I would have done that too, but as things turned out it wasn't necessary.
Three months ago, a nice looking couple — although a bit old, I must confess — came to our shelter looking for a replacement cat. They explained that they had once had a cat whom they said they had loved very much for many years, but it had died suddenly two years ago. They said they grieved so much that they had to wait two years before they could bring themselves to look for another cat.
I wasn't sure I believed this hokey story.  But I said to myself, "What the hell!" And then I went into my little routine and it worked like a charm. They said I was the cat they had to have!
So now I am ensconced in a really lovely country home, with lots of outdoor grounds that are chock-a-block full of mice, chipmunks and some other little creatures whose names I have forgotten. And the couple who picked me turned out to be a very solicitous staff, dedicated to feeding me regularly and brushing me gently. I'm quite happy with this set up, and will probably develop some generous affection for them pretty soon.
I suspect that they would like me to spend more time with them, and less outside on my own all night and most of the day.  But they are kind of boring.  We'll see.
Stay tuned!
– Eddie
P.S.  While they know my name is Eddie, they keep calling me "the schnorer". I'm not sure what that means, but I'll figure it out one of these days. I just hope it's not an insult.
I do go into my little act, with lots of purring, rolling over, rubbing, kneading, etc., whenever I feel like getting that special wet food they have. Maybe that has something to do with this "schnorer" business.
Ham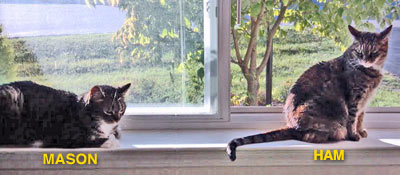 Ham's adjusted pretty well, we're happy to say! She spent her first night under our bed, the next day & night in her own room and after that, the run of the house. Ham's doing fine with our other cat Mason and he's getting MUCH better with her. Ham's got her own little favorite spots in the house already, like the windowsill enjoying the bright sunshine.
We're up to 30 seconds of petting at a time. She LOVES to rub her head and then her entire body against my forehead/head and the 30 seconds of petting is allowed to happen after that. She's a pretty independent gal!  We're enjoying her quirky little personality.
Smithers

Take a look at this wonderful video made by Smithers' Foster Dad to see just how happy Smithers is!
Willow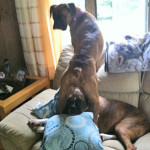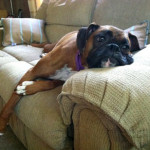 Willow the Boxer was adopted by a very special couple and their male Boxer "Chuck". It was instant chemistry between Willow and Chuck. They love to play and run together. Willow's owners report that Willow doesn't sleep, she stretches out long and lanky to recharge her batteries for the next day's activities. Willow's favorite games are wiffle ball and trying to "catch" the water from a water gun.
Lambchop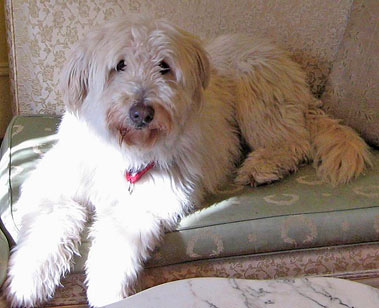 MY LIFE
by Lambchop T. Mead (aka Maxwell)
The first three years were a mystery to me and everyone I know. The following 5 years I lived at the Shelter, eating, sleeping, jumping at the fence, oh yes…biting my caretakers. Couldn't be groomed regularly — always need a sedative.
Lo and behold along comes this Lady who was being courted by other dogs — Tucson, Lucas and many others. But she liked me the best because I was "un-adoptable". So one day she couldn't find me at the Shelter — I had been groomed — instead of looking like a dirty, muddy, unkempt stuffed animal — I looked like a lamb. And she called me "Lambchop" after the Shari Lewis hand puppet. P.S. She was on that show once a long time ago.
Next thing you know I'm living on a boat, falling up and down stairs and in the water. My brother was an older guy named Maxwell (another reason for my name change); which took me over a year to get the hang of.
So though I never really got the stairs or which side doors opened on I did learn to wake my Lady up in the middle of the night by mental telepathy or simply by standing on her while she slept. Another claim to fame is I discovered I could watch her in the mirror between the living room and bedroom, pretty smart, huh?
She took me everywhere (in the beginning it was to safeguard the boat and apartment from being destroyed)—I was into pulling the drapes down. We traveled in the little yellow buggy which I loved: the beach, picnics in city parks, tennis courts, grassy fields in Pelham where I ran free, walks along the Hudson River, I left my mark on the Cloisters and went to work with the "boys" in Brewster, lead by the Captain who I didn't really like — took 3 years for me to warm up to him; of course I bit him twice but my Mom chose me over him so I got to stay. Whew!!!
And I had an extended family: a couple of forty-somethings, an eight year old plus dogs and cats who always outsmarted me. And then along came this girl dog with the high IQ and really made me look even dopier but she sure smelled good.
Anyway, on August 13th (Friday the 13th), I broke my leg — nobody knows how. My Mom nursed me back to health and I was almost perfect when, all of a sudden, a handful of horrible things happened to me (had been lurking there all the time) — well you know the rest.
So now I'm up here waiting for Mom and the Captain to get here. But I'm not alone: there's Susie, Brandy, Lucky, JC, Blackie, Butch, Dorkette (Ashley), Dennis, Doris, Maxwell the first, Ernie, Pua, Sam and even a cat named Katy. And can't forget Frisky and Geoffrey.
Meanwhile my spirit resides in my lair under the coffee table.
LAMBCHOP T. MEAD
1999-October 4, 2010
Beloved Funny Face, "The Wooly Mammoth"
Frankie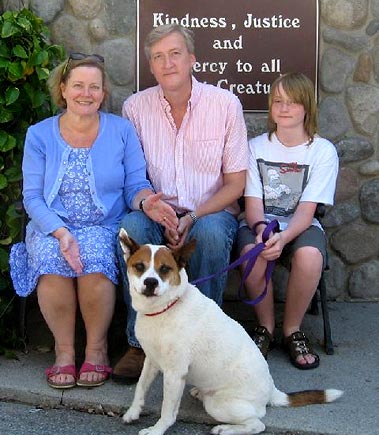 Our Frankie…When we first visited PHS and met Frankie, we were astonished that Frankie had been at PHS for as long as he had been. We asked over and over why he hadn't been adopted. And now that Frankie has been a member of our family for almost a year, almost every day we still ask ourselves why he hadn't been adopted.
Frankie is a sweet, wonderful and loveable dog. It took him a few weeks to settle in and to realize that our home was now his home. But now it's like he's always been part of our family. When any of us have been out and return home, we are greeted by a playful, tail-wagging and smiling dog who seems so happy to have us home again. Frankie loves playing ball in the yard, but his most favorite activity is to go for a long walk in the park.
And Frankie believes that any open door in any vehicle is a means of getting to the park. It's pretty funny to see him jump into the trunk of the car when I am unloading groceries. And even the mailman has had the experience of Frankie climbing onboard! It also turns out that Frankie is a good pet therapy dog. A friend's daughter has several disabilities. She loves dogs, especially Frankie. And Frankie just seems to know exactly how to
interact with her.
The day we brought Frankie home with us, it was amazing to see how many ofthe PHS team came by to see Frankie off. He was clearly well loved by the PHS staff and volunteers and everyone was so happy that Frankie finally found a home. We are so thankful to all of you for taking such good care of him for all those years and we want you to know that we adore Frankie and we do everything we can to make sure he is happy and well cared for. Frankie really is the perfect dog for us and we just hope we are the perfect family for Frankie.
– Martha, Nigel and Jack Swift
Duncan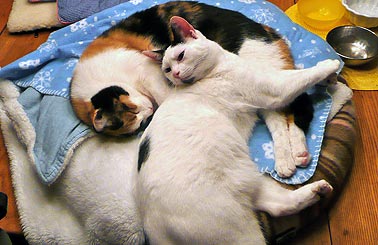 Duncan (formerly Milky) is the newest member of our household. He was adopted from PHS in the fall of 2009. Duncan, pictured with his buddy Daisy (calico cat), is a special needs kitty. He was born with severely deformed paws. None of his toes or pads on any of his feet are normal. He doesn't seem to know, or mind! He runs, jumps and plays, despite his disability. Well, he doesn't actually run, as much as he hops like a bunny (a wonderful adaptation to his messed up feet). Duncan came from a special litter of kittens, with Meredith as his mom. Meredith and all of her kittens were successfully placed in other homes.
Duncan is an amazing cat. He has an endearing quality about him…..he is gentle, and quiet, and yet can be very playful and mischievous. Because of his paws, he sits in unusual positions, often crossing the two front paws, as his front paws do not lay flat. It took a few weeks for Daisy, our calico cat, to warm up to Duncan. And then she became his best friend. They sleep and play together. Sometimes, when he wants to play, and she is sleeping, Duncan will lick her head till she wakes up to play. Our tortie cat Delilah; on the other hand, tolerates Duncan when he torments her into play. The 80 lb greyhound that resides here? Dawson is a gentle soul, who tiptoes over Duncan whenever he gets underfoot. Every once in a while, Dawson will share his dog bed with Duncan, being careful not to lay on him! These two animals are affectionately referred to as "Big D" (the greyhound) and "Little D" (Duncan of course).
We are grateful that PHS took such good care of Duncan, and advocated for the right home for him, despite his disability. We cannot imagine life without him. For any of you considering a new pet addition to your household…..consider a special needs or senior animal. They need homes too, and make the most incredible pets!
LeeAnne, Chris, Brielle and Delaney Jones
Ethan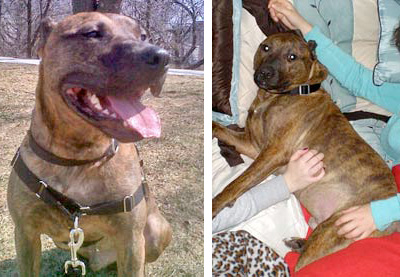 Hi All,
We wanted to give you guys an update on Ethan since we know how special he was to everyone while he was with you. He's doing great up in Boston with us and definitely felt at home right away. We were a little worried about his leg the first couple of days but after a few weeks and a consultation with the vet he started walking on all fours and hasn't had a problem since. He's great on the leash and loves meeting all of our neighbors on the sidewalk. They love him too, he gets complimented ALL the time and is definitely the most popular and loved dog in our building. We've been taking Ethan to the dog park once or twice a week and he's become very good around other dogs. He started off only being comfortable around the smaller ones, but now he gets along with the bigger dogs too. He's also made some puppy friends walking around the track in the park across the street. His two best buds so far are a chihuahua and a puggle, and we think he might have a crush on another rescued Pit Bull who lives down the street.
Ethan loves being a couch potato, but most of the time we can get him to go for a run in the neighborhood with Pat. However, his favorite game is running back and forth on the bleachers of the track with me and leaping over all the open spaces. We'll go back and forth countless times before he gets tired, and he attracts a fan club every time we do this. He just loves to jump and show off. He doesn't like to wake up early to go out, and by early we mean before 11am! We have to coax him out of bed and usually he'll just roll over for a belly rub before even thinking about getting up, it's absolutely adorable. He loves to snuggle and sleep under the blankets with his head on the pillow or on your shoulders, and he has the cutest snore. He makes the funniest grumbling sounds when he rolls around in the bed and lounges on the couch. Surprisingly, Ethan loves to get dressed up. Whenever I pull out one of his sweaters he runs up to me wagging his tail and nuzzles his head into it!
We honestly can't remember what life was like before Ethan, and we feel so blessed to have him in our lives. We want to thank everyone at the Humane Society for giving us the opportunity to fall in love with him and let him be part of our family. He is an absolutely amazing dog and we love him so much. He is so smart, so loving, and we just can't believe how lucky we were to find him. We are so appreciative to everyone who took care of Ethan before we adopted him, and hopefully we'll get a chance to bring him in to visit with everyone soon! We hope you enjoy the pictures!
Love,
Katie and Patrick
Spot
Spot was a senior dog who was at the shelter for many years. He was very shy and I believe that is the reason he was passed over for adoption.
Some of the wonderful volunteers at the shelter worked with Spot to make him more sociable. I learned about him when I saw a flyer with his picture and his story. I went to the shelter to meet him and for many weeks I would go on weekends to walk him and bring him the treats that he loved. It was soon apparent that Spot was indeed a wonderful dog so my husband and I decided to bring him home under the foster care program. He has been with us under foster care for 3 1/2 years. He is still shy but he is not afraid of people the way he was in the beginning. Obviously, Spot had never been in a car before so it took a few weeks for him to get used to being in a car and now every time my husband and I are going out he gets excited because he feels he is coming for a ride with us. He really loves car rides!
After reading these success stories, I hope that more people will take the time to get to know some of the quieter dogs at the shelter and give them a chance for a home of their own. They wouldn't regret it!
Hilda
HILDA'S STORY
Marilyn Jean Young
November 2007
January 1, 2006. A bitter cold and frosty New Year's Day. I came to the shelter for my usual walk with Hilda. I'd been visiting with her for a year and a half. She was a gentle walker, somewhat sad, and seemingly shy. But, after a few months she would cry when she saw me enter the gate and after several more months finally allowed me to gently stroke her when she sat down during our walk (which she did often). Our walks were long and our visits longer. I rented and couldn't have a pet so we contented ourselves with weekly get-togethers. But this day was different.