TNR – Trap, Neuter & Return
What is TNR?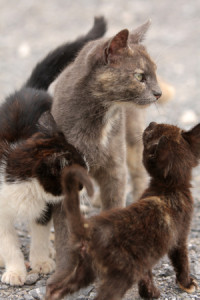 Trap-Neuter-Return (TNR) is a humane & effective method for controlling overpopulation in feral cat communities also called Colonies. "Feral cats" are cats that live amongst our community but have never been socialized with humans and are therefore generally unable to be domesticated and adopted into a home. The purpose of a TNR program is to prevent overpopulation in these colonies and to help maintain the health of these cats. To do this, the cats are humanely trapped, spayed/neutered, eartipped, vaccinated and returned to their outdoor home/area. "Eartipping" is the removal of the tip of the left ear as a universal sign that the cat has been sterilized and vaccinated. TNR improves the quality of life for a feral cat because it removes the stress of mating/pregnancy, which in turn prevents injuries & fights, overpopulation and illness. TNR benefits our community because a spayed/neutered cat no longer exhibits unwanted behaviors like howling, fighting, and the odor of males spraying & marking territory. For TNR to be successful, there must be human "Catetakers" who regularly feed, provide necessary shelter and monitor their feral cat colonies.
If there are feral cats on your Putnam County, NY property and you would like more information on TNR, please call the shelter at (845) 225-7777. You must be willing to commit to feeding and caring for the colony to be considered for this program.
For more information on TNR, here are some helpful links:
Did you know that PHS is making a difference in our Community through our TNR fund?
Through fundraising and donations, we are able to help the residents of Putnam County trap feral cats, spay/neuter, vaccinate and return them to their colony where a "Caretaker" provides food and shelter. This cuts down on the proliferation of additional feral cats, helps maintain the health and improves the quality of life for these cats.
Please consider donating to our TNR FUND by sending your gift to:
Putnam Humane Society
P. O. Box 297; Carmel, NY 10512
Mark your check "TNR"
And Thank You for helping us help these special cats in need.